FNZ
Learn how FNZ delivers fintech apps via Software as a Service model, removing Capex infrastructure investment for its clients and is automating software testing in the cloud.

innovative cloud-based service
As a leading independent software vendor (ISV) providing innovative wealth management solutions, FNZ's Figaro and Neon applications include trading, asset management, and settlement systems for brokers and investment managers.
FNZ offers clients a fully integrated front- to back-office solution with a web interface for client and agent access. In a traditional Fintech ISV model, the client would be responsible for the underlying IT environment, but today's wealth managers don't want to be hindered by investment in IT infrastructure and operations.
FNZ wanted to increase its client base by removing the need to purchase additional infrastructure and conduct regular upgrades to run its applications. By adopting a cloud model, FNZ would be able to offer an innovative service based on a managed hybrid cloud environment that's resilient, accessible, and highly secure.
0 mins
Spin up new virtual servers in 10 minutes
x 0
Complete tests at least 15 times faster
0
Approx daily trades in Figaro solution
challenge
Firstly FNZ needed a partner to support its goals. FNZ recognised that clients' success and growth depend on access to innovative, agile, and cost-effective solutions. Therefore the business decided to offer a software-as-a-service (SaaS) model that can change as clients' business grows.
By delivering IT services, reducing operational risk and costs, FNZ could enable firms to concentrate on managing the relationships with their clients instead of the underlying IT infrastructure.
The second challenge was to find a cost-effective solution for software testing to improve the speed with which FNZ's developers could roll out new releases.
FNZ began to automate software testing of its core digital wealth management platform, Figaro, and successfully knocked days off test cycles. However, as the testing team shared a virtual machine (logical partition/LPAR) with the development team, over time it started to slow down software development. A dedicated LPAR for tests was not a scalable option, so FNZ needed a cloud-based solution.
SOLUTION
Figaro is a very large system, that runs on IBM i on IBM Power Systems servers. FNZ selected CSI as a cloud partner initially to host the Figaro application in the CSI PowerCloud, which is based on the latest IBM Power Systems as well as Windows and Linux-based virtual machines, together with tiered storage and data protection services.
Our fully monitored and managed environment is easy to configure, scalable, and protected with enterprise-grade cyber security services.
The CSI PowerCloud allows FNZ to focus on delivering the value of its wealth management software and digital transformation services to its clients with the confidence that the underlying systems are available 24×7.
When it came to automated software testing, the ideal solution was CSI's Test as a Service offering based on IBM Power Systems Virtual Server in the IBM Cloud. FNZ now has a test-ready environment with as much compute power as it needs; FNZ developers can use the virtual servers for as long as they need and delete them after use.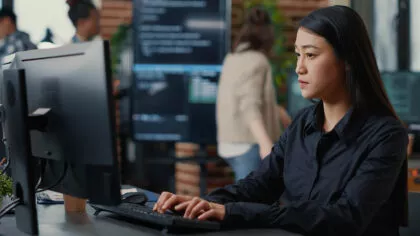 SaaS cloud services allow companies to break away from costly systems that lack agility – with speed and ease. We are delighted to be able to offer this with the support of CSI.

John Blackman, Group CPO – FNZ
outcomes
The success of offering Figaro from the CSI PowerCloud encouraged FNZ to launch its Neon platform as a SaaS-only model. This opened up new markets for FNZ, having a positive return on sales revenues and market share.
Now FNZ has the flexibility to offer both private cloud or public cloud models to meet client requirements.
As further recognition of the impact of this initiative, CSI won the 2021 IBM Beacon Award for the "Most Innovative IBM Hybrid Cloud Solution with IBM Power Systems".
Built on IBM Power Systems, the CSI PowerCloud and Test as a Service solutions enable ISV partners to modernise mission-critical, regulated applications – plus the associated infrastructure – using a suite of open source technologies.
Our solution also takes advantage of the IBM Cloud Pak multicloud management technology, which runs on Red Hat OpenShift. Specifically, the offering's cloud automation management capabilities help FNZ organise, templatise and parameterise Terraform system definitions, while Red Hat Ansible automation scripts fully deploy the application.
About our client
FNZ is a financial services company based in Edinburgh.
As a leading independent software vendor (ISV) providing innovative wealth management solutions, FNZ's Figaro and Neon applications include trading, asset management, and settlement systems for brokers and investment managers.
The company vision includes opening up wealth by creating modern, digital-first experiences for customers and investors.
Ready to talk?
Get in touch today to discuss your IT challenges and goals. No matter what's happening in your IT environment right now, discover how our experts can help your business discover its competitive edge.